About Us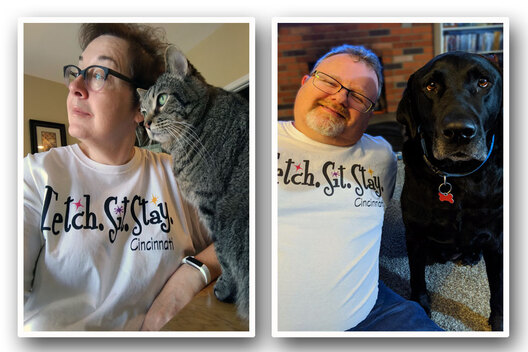 Sheri Rydyznski
Sheri is owned by a spirited tortie and two Labrador-in-laws and is the primary service provider and owner of Fetch.Sit.Stay. Cincinnati. LLC. Active in 4-H at a young age, she has cared for horses, dogs, cats and other assorted beasties. She semi-retired from the hospitality indusy, after 25+ years and resides in the Greater Cincinnati area with her husband.
Clark Holmes
Clark is the designated emergency service provider for Fetch.Sit.Stay. Cincinnati. LLC. He is employed full time by an international company and helps maintain the cloud and its security. He comes from a long-line of dog people, but loves all animals, big and small. He lives in West Chester with his devoted wife of 7 years and one fussy cat.
We pursue on-going educational and professional development and maintain membership with Pet Sitters International.
We are pleased to support local and national organizations including:
Alley Cat Allies, Angel's Watch, ASPCA (Save the Horses),
Best Friends Animal Sanctuary and Big Dog Ranch Rescue
and a few humanitarian organziations too:
Armed Services YMCA, Donors Choose, Bob Woodruff Foundation, No Kid Hungry and World Central Kitchen.
Want to learn more about Fetch.Sit.Stay. Cincinnati. LLC?
​
Facebook
Instagram
Your best friend's new best friends!